If your domain is registered with us, but your site is hosted elsewhere, you may modify your individual DNS records from our client area.
login to your client area at https://secure.hostmight.com/clientarea.php to manage your new domain.
Once you logged in, click on Domains -> My Domains

After that, click on "Manage Domain" button against your domain name for which you want to Manage.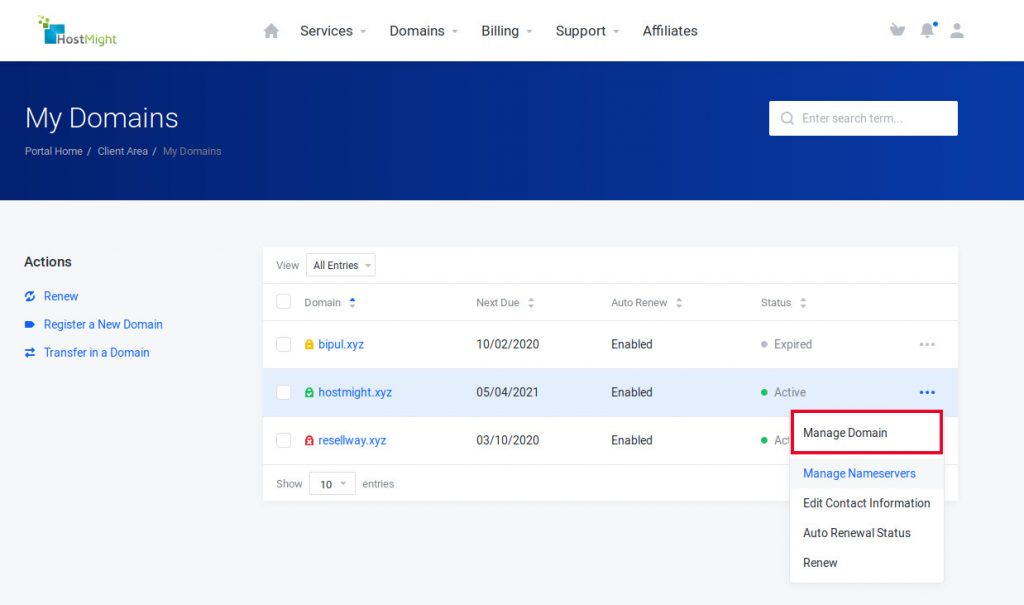 Now Click " DNS Management from the menu :

DNS Management interface :
You can see a section under the heading DNS Management where you can see Manage A Records, Manage AAAA Records, Manage CNAME Records, Manage MX Records,Manage NS Records, Manage TXT Records, Manage SRV Records, Manage SOA Record .
To Add Host Records
To enter a Host Record, you will need to fill in each of the fields on each row. Which means a complete Host Record will include a Host Name, a Record Type, and Address. And finally "Save Changes."
1. Host Name – Represents a unique prefix used to label the host record.
2. Record Type – A record type is the type of entry that will be entered in the Address field.
3. Address – The address is the destination for where you want your Host Name to resolve to.
To Remove Host records
Simply delete the characters in the address and host name field, and select Save Changes.