You are free to transfer your domain to your new company. To transfer a domain out of HostMight you should submit a transfer request with your new provider/registrar.
You need  your domain Transfer code/EPP code : 
The EPP Code is basically a password for a domain name. It is a security measure, ensuring that only the domain name owner can transfer a domain name. You will need it if you are wanting to transfer the domain to another registrar.
To Get EPP Code please login at https://secure.hostmight.com/clientarea.php 
Once you logged in, click on Domains -> My Domains
After that, click on Manage Domain button against your domain name for which you want to Transfer.
Then click on "Get EPP Code" from the domain menu.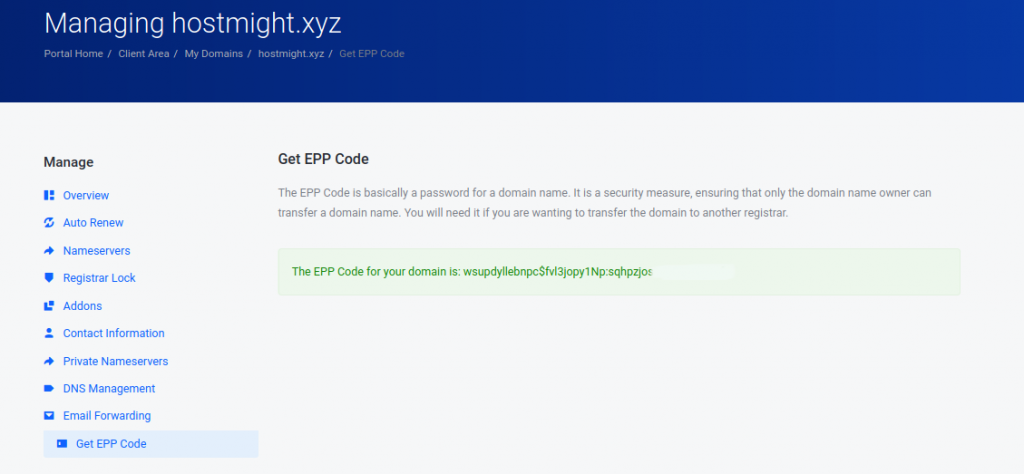 You can read the details post : https://support.hostmight.com/article/how-to-get-the-epp-code-from-client-area/
Before initiating the transfer make sure that the following applies to the domain:
The domain is more than 60 days old;
The domain was not transferred between registrars within the last 60 days;
The domain is "Unlocked" for transfer ("Registrar Lock" is disabled);
Privacy Protection is disabled;
The domain is showing valid and up-to-date information for the Administrative and Registrant contacts in the who.is.
After the transfer at the new registrar is initiated and the auth code is provided, the new registrar will send a transfer approval email to the Administrative email address listed in WHOIS. Once the transfer is approved, HostMight has 5 days to release your domain(s) as per ICANN Transfer policy.